---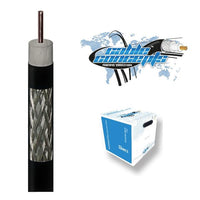 Cable Concepts Single RG6, 60% Br. 3GHz, FT4, CSA.
Cable Concepts single RG-6 coaxial cable has an 18 gauge inner conductor surrounded by a tubular dielectric insulating layer. An overlapping aluminum foil layer is bonded to the dielectric and then protected by an insulating outer sheath or jacket. This cable can be used both indoor and outdoor, is (FT4) fire rated, but is NOT suitable for burial. This cable is CSA approved.

Construction materials: 
Center conductor material: Copper-clad steel wire. 
Dielectric material: Foam PE. 
Jacket material: PVC. 
Shield (braid) coverage: 60 %. 
Shield (braid) material: Aluminum.  
Dimensions:
Cable length: 305 m / 1000 ft.
Diameter over center conductor: 0.0403 in per 1 strand.
Diameter over dielectric: 0.1800 in.
Diameter over jacket: 0.272 in.
Electrical specifications:
Characteristic impedance: 75 ohm.
Nominal velocity of propagation (NVP): 85 %.
Structural return loss: 15 dB at 10013000 MHz. 20 dB at 51000 MHz.
Structural return loss test method: 100% swept tested.
UL temperature rating: -40 °C to 75 °C.
General specifications:
Application: Satellite, CCTV, CATV.
Jacket color: Black, white, grey.
Product number: WICH2160.
Center conductor gauge: 18 AWG.
Center conductor type: Solid.
Sequential footage marking: Every two feet.
Mechanical specifications:
Maximum recommended pulling tension: 45 lbs.
Minimum bend radius (install): 3 in.